Welcome Employers and Job Seekers!
Whether you are looking for a job or recruiting, Tech Job Fair is the place to be! This event will target local students and job seekers from tech and business filed: developers, designers, marketers, sellers, financiers, managers, BI, analysts, product managers, data scientists.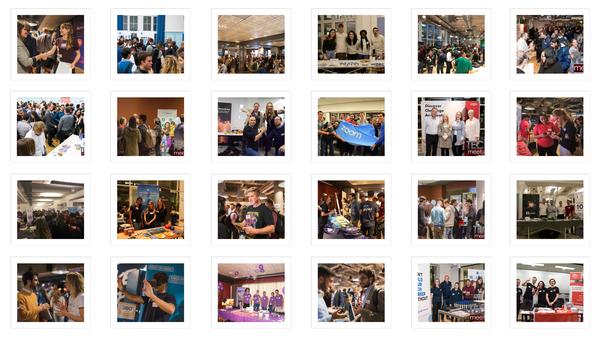 Dublin Tech Job Fair Spring 2019 is a chance for job seekers to talk to companies that are hiring in person. If you've had enough of submitting your CV online without the opportunity to make a lasting first impression, here's your chance to change your strategy and do a bit of networking.
Job postings for the event here: www.techstartupjobs.com
If you have any questions and suggestions, please contact [email protected]
Become an exhibitor
Enjoy networking opportunities, launch a new product, collect feedback, source, hire and generate new leads.
Exhibitor packages  https://techmeetups.com/exhibitors
Pictures  https://www.flickr.com/photos/techmeetups/sets/72157697632466470
Testimonials https://techmeetups.com/testimonials
Exhibitor packages 
Companies exhibiting
FBD Insurance offers great value Car, Home, Business & Farm Insurance cover. FBD Insurance's network of 34 local sales offices, together with phone and online support teams.
Forcepoint offers a systems-oriented approach to insider threat detection and analytics, cloud-based user and application protection, next-gen network protection, data security, and systems visibility.
Vodafone provides mobile networks in 26 countries (including joint ventures and associates) and fixed services in 17 of these.
Diaceutics has built a global data lake of diagnostic testing information, curating data from over 2500 labs around the globe.
SalesOptimize is a data science company specializing in market intelligence and sales lead generation. Unlike other data providers, our data is refreshed directly from the Internet.
Wipro Limited is leading global information technology, consulting and business process services company.
Workindenmark provides international job seekers and Danish employers with the information, guidance and tools to find each other.
SmartSimple is a cloud-based tracking and reporting platform that helps organizations automate their critical processes. SmartSimple offers unparalleled flexibility in the way organizations can collaborate and engage with their staff and the external community.

Cerner – Together with our clients, we are creating a future where the health and care system works to improve the wellbeing of individuals and communities. #SmarterBetterHealthier
Looker is on a mission to bring better insights and data-driven decisions to every business.  We are looking for curiously brilliant individuals to join our team as we reinvent data.
KAL's multivendor ATM software enables banks to take control of their ATM networks to reduce costs, increase functionality and improve competitiveness.
obelisk is an internationally competitive professional engineering services business. We provide infrastructure solutions for the telecoms and power sector entity created automatically from Email
When it comes to creating exceptional software for the online gaming industry, Derivco is at the forefront of industry innovation.
Noa is the best way to stay informed with the latest news while you're busy and on-the-go. The leader in audio-journalism. Listen to The New York Times, The FT, and more. Download free on iPhone and Android.
CROSSVALE – Whether you are in need of some help with integration and/or process improvement on your current platforms or you don't know where to begin your journey to modernization, we can help make the road much smoother.
SentryOne empowers the Microsoft data professional to achieve breakthrough performance across physical, virtual and cloud environments.
Indeed Prime connects top tech talent with the best opportunities from leading brands and tech startups. We find out what's important to you and match you with your dream job.
VENUE
WeWork Iveagh Court | Block D | Iveaghcourt Harcourt Street | 2 D02 VH94 Dublin | Ireland
WeWork is a global network of workspaces where companies grow together. Teams of any size can find refreshingly designed collaborative space, private offices, and meeting rooms that energize their employees and their guests.