Welcome Employers and Job Seekers!
Organize events with TechMeetups to explore the innovative tech scenes of some of the world's greatest cities: London, Berlin, Amsterdam, Barcelona, Paris, Lisbon, Stockholm, Madrid, Copenhagen, Hamburg, Munich, Dublin, Bern, Zurich, Stuttgart, Frankfurt, and New York. Visit https://techmeetups.com/events/
Agenda: 18:00 – 21:00 Exhibition & Networking
Audience: IT, Sales & Marketing professionals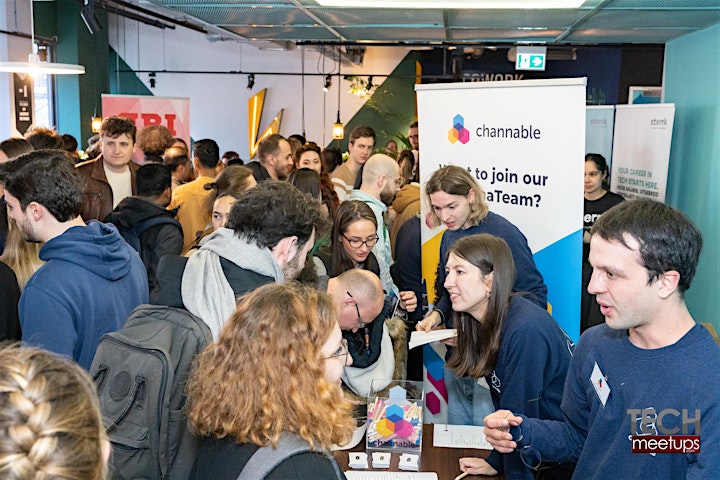 This is the perfect chance to meet up with some of the world's leading tech companies as well as leading startups in the tech industry. At the fair, you can network with employers, recruiters, and other professionals that can help you secure a new position. And best of all, you can learn about the latest openings in the tech job market.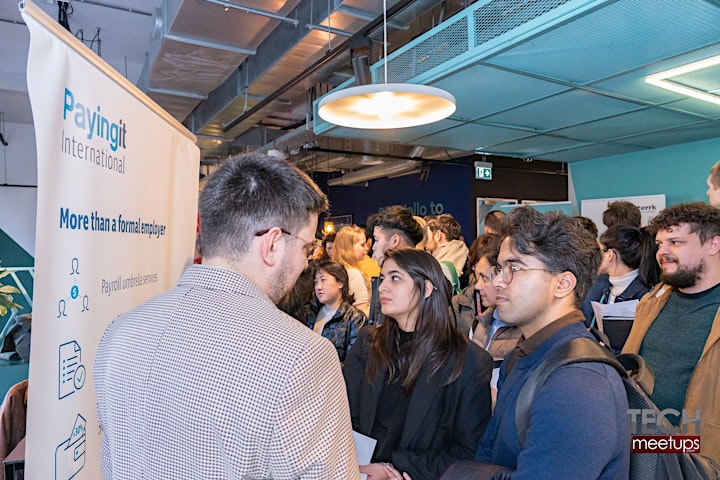 Whether you're a recent graduate or an experienced professional, the Amsterdam Tech Job Fair Autumn 2023 has something for everyone. Meet with recruiters from leading tech companies, learn about the latest trends and technologies in the industry, and discover new career opportunities that align with your skills and interests.
Ready to make the most out of this incredible opportunity? We're welcoming attendees looking for new opportunities in the Technology, Sales & Marketing fields: including software engineers, programmers, web & mobile app developers, data analysts, network engineers, systems & database administrators, data scientists, cyber security professionals, UX/UI Designers, QA/QC Engineers, cloud architects, DevOps Engineers, technical support specialists, hardware specialists, business analysts, IT project managers, sellers, marketers, and media people.
Don't miss out on this incredible event! Register FREE Now and take the first step toward your dream job in the tech industry. We can't wait to see you there!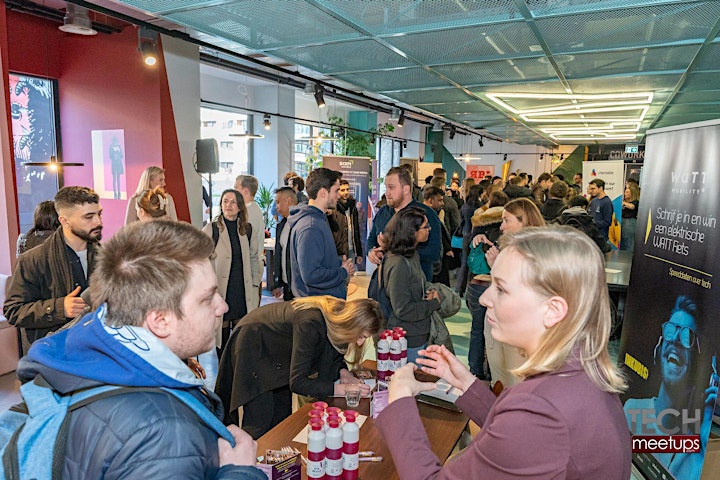 Become an exhibitor! Are you a recruiter, a hiring manager, a startup, or looking to hire tech talent?
Join the TechMeetups Amsterdam Tech Job Fair this Autumn 2023 for a powerful recruitment experience that unites tech leaders, startups, and emerging talent together.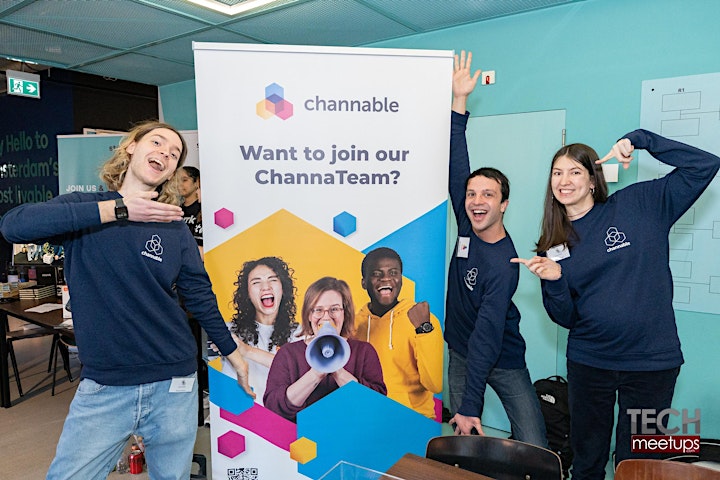 Connect with hundreds of attendees from all areas of the tech industry, from software engineers to data scientists and take part in networking activities—it's the perfect platform to find passionate candidates and inspiring ideas.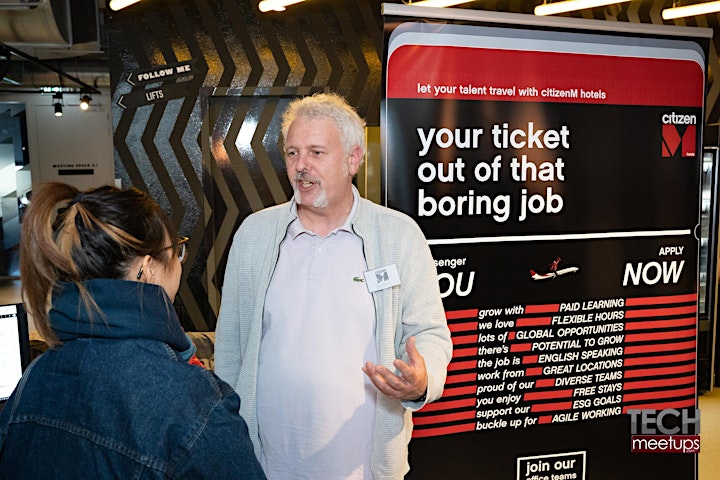 This is an excellent opportunity to showcase your company, jobs, and services to an energetic and passionate crowd of professionals. At the job fair, you will have the opportunity to set up a booth and meet with job seekers face-to-face and discuss job openings and career opportunities with potential candidates. Your package includes a table/chairs at the job fair and varying levels of branding and promotional opportunities.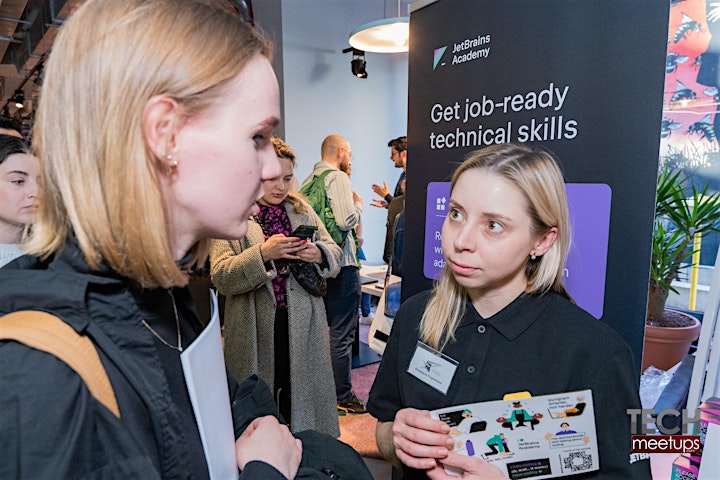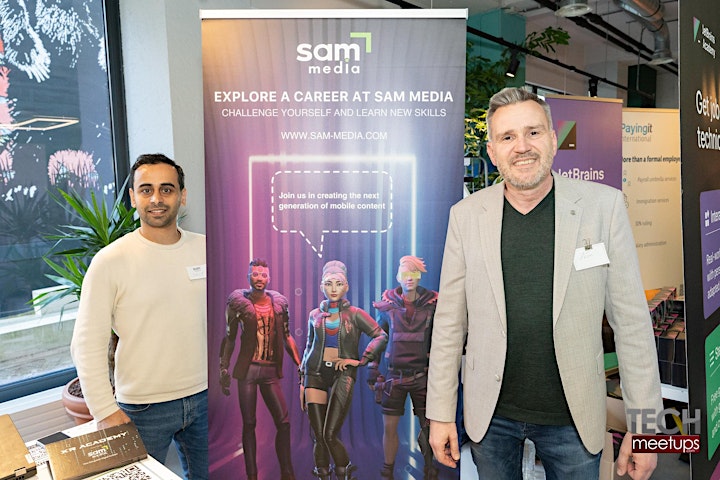 Exhibitors

About Infront: Europe's leading provider of essential financial data and technology, for wealth managers, brokers and traders. Our 3500 customers gather information, build knowledge and derive insight about market direction and investment opportunities to deliver better results for their clients. We give wealth managers and traders the confidence and control they need to make smarter decisions faster.
Workindenmark– Connecting international job seekers and Danish companies. Workindenmark is the Danish Ministry of Employment's unit for international recruitment and a member of the European Employment Service (EURES). Browse the job portal on www.workindenmark.dk to see job ads in English from Danish employers. Kick start your job search, meet expats already living in Denmark and get inspired – perhaps your new career is in Denmark.
As a leading consulting company for SAP software, especially for SAP S/4HANA transformations and SAP cloud solutions, CNT Management Consulting has been one of the top international consultancies for more than 20 years. With more than 400 processes and SAP consultants in five European countries and in the USA, we successfully support the digital transformation of corporations, medium-sized companies and public organizations. CNT Management Consulting offers methodological and consulting expertise for all SAP products, particularly in the areas of enterprise resource planning, supply chain management, financial management, human capital management, spend management, customer experience, analytics and the business technology platform. CNT stands for further development, opportunities for advancement and perspectives as well as a family working environment. With equal opportunities, diversity and a practiced DU culture, we ensure productive and at the same time positive cooperation.
We are
bunq
, bank of The Free. We're here to break free from the status quo, and revolutionize mobile banking. Wherever you want, whenever you want, with whomever you want – we give you the freedom to live life on your own terms. All you will ever need is your phone!
We built our own financial system from the ground up, and with the launch of our app in 2015, we reinvented banking as you know it. And that's just the beginning! We work around the clock to create fintech innovations that simply make banking and money management as easy, transparent, and fun as possible.
Want to join us in our mission to revolutionize the traditional banking industry?
You will become part of an international team of more than 500 bunqers (48 nationalities and counting!) that all have one thing in common: we love what we do. Waking up with brilliant ideas and going to bed knowing that you've personally contributed to them? That's working at bunq.
If that sounds like your kind of challenge, go to 
bunq.com/jobs
 to get the ball rolling 🚀
Realworks was founded in 2004 to make the life of Real Estate Agents easier, faster, and more efficient. Together, with 100 REAL bold people from 21 different nationalities, we realise our ambitions. We strive to provide CRM, move.nl, and an API platform for Real Estate Agents. Realworks has now become the market leader, with boundless potential. Working at Realworks means a lot of freedom and responsibility in self-managing teams. As a Realworker, you embrace innovation and collaboration, and your curiosity for learning is never satisfied. These are just a few of the core values that shape us.
We are a pioneering network of online marketplaces and cutting-edge European digital company that simplifies people's lives with innovative products. SMG Swiss Marketplace Group Ltd. provides customers with the best tools to meet their life decision needs. The portfolio includes Real Estate (ImmoScout24, Homegate, Immostreet.ch, home.ch, Publimmo, Acheter-Louer.ch, CASASOFT, IAZI), Automotive (AutoScout24, MotoScout24, CAR FOR YOU), General Marketplaces (anibis.ch, tutti.ch, Ricardo) and Finance & Insurance (FinanceScout24). The company was founded in November 2021 by TX Group AG, Ringier AG, La Mobilière and General Atlantic.
Rentman
develops smart and powerful resource management and planning SaaS software. Particularly used in the event and production industry. Our headquarter is in Utrecht, The Netherlands, and other offices are in Toronto and Colombo. Over the last years, we have successfully grown into a business that employs over 80 professionals from over 30 countries. And we are ready to grow more!
We are proud of our extensive tool that makes the lives of our customers easier. From small companies to high-end event service providers, businesses in over 70 countries use our software to realize festivals, concerts, corporate events, and more. For event service providers that encounter daily challenges with scheduling staff, keeping track of inventory or creating professional estimates in a highly dynamic industry, Rentman is a valuable solution.
Zero Hash is a B2B2C embedded infrastructure platform that allows any platform to integrate digital assets natively into their own customer experience quickly and easily (a matter of API endpoints). Zero Hash enables developers and businesses to focus on building experiences and products. We power neo-banks, broker-dealers, and payment groups to offer digital asset trading and custody, crypto-backed rewards and round-ups programs, and more. Zero Hash is defining the new FinTech vertical of digital-assets-as-a-service. Our thesis is very simple: every financial services firm will offer digital assets within the next 2 years and will do so through platforms such as Zero Hash. Clients include MoneyLion, Current, Curve, Step, Stripe, Wirex, Blockdaemon, Transak, MoonPay, Banxa, Nium, Deserve, DraftKings, and tastyworks. Backed by Point72 Ventures, NYCA, Bain Capital, and tastytrade.
SyncVR Medical is a social enterprise with the mission to improve healthcare with XR. We do this through our extended reality (XR) platform with 30+ XR health apps in our XR App Store, now active in 200 healthcare organizations in 6 countries. We're looking for 15+ new colleagues! Are you up for an entrepreneurial adventure in healthcare with XR? Join us: syncvr.tech/careers